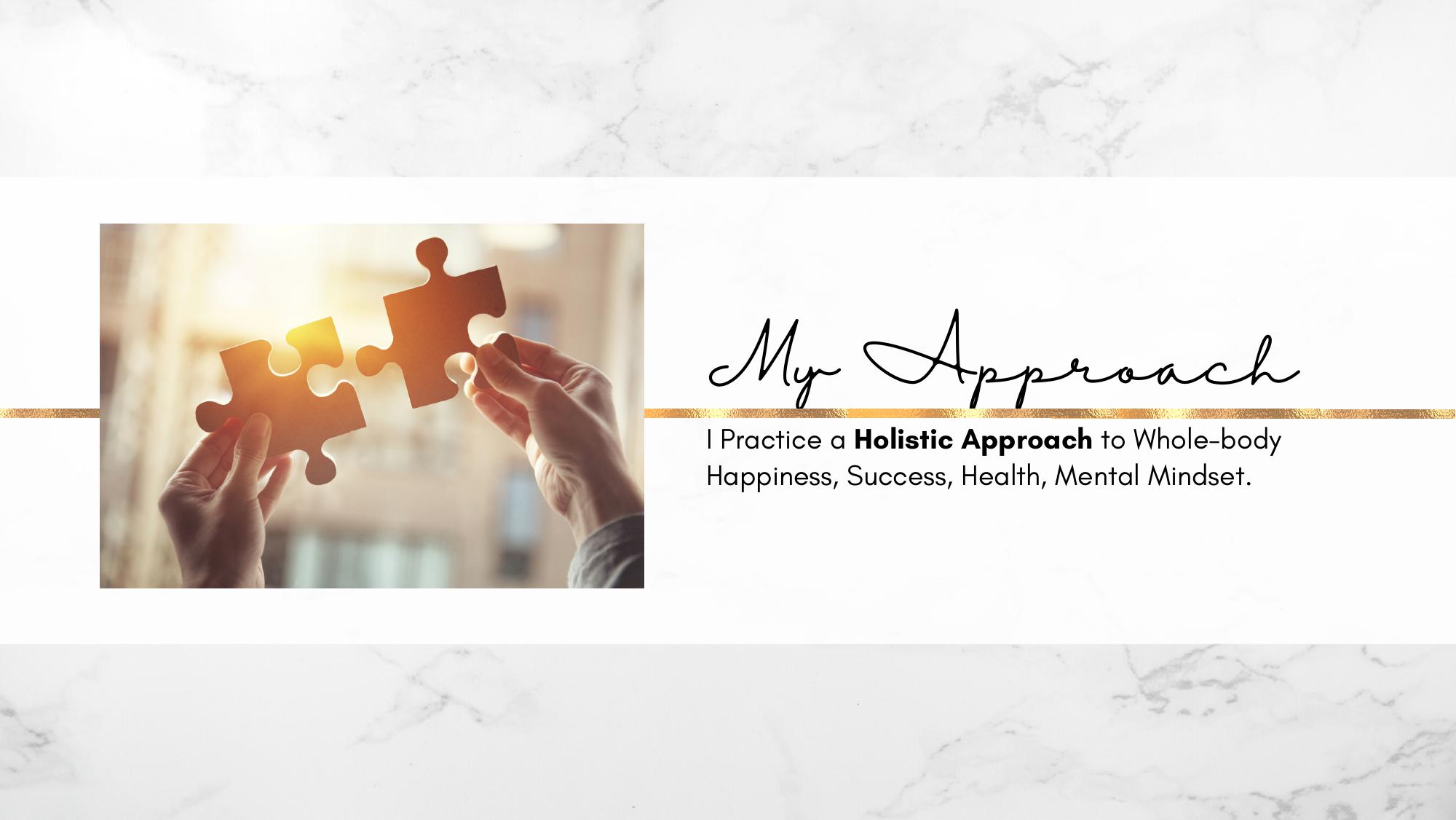 I practice a NO NONSENSE Approach to whole-body happiness, health, success and mental mindset.
What does this mean? I look at how all areas of life are connected and how each impacts the other. As your coach, I will help you identify what you value most and define what success and happiness means to you. With these values and definitions, we will set specific goals that will bring you closer to the life you desire. Let's be honest, hoarding personal development info isn't getting you anywhere, is it? All of the books, podcasts, webinars, and gurus you follow aren't getting the job done. WHY? Because you MUST go all in and do the work, not just listen.  We will identify and transform your emotional blocks and limiting beliefs (WE ALL HAVE THEM and THEY ARE HOLDING YOU BACK!) This will allow you to once and for all live in freedom of your past. You will learn how to AWAKEN YOUR INNER BADASS so you can live life beyond your wildest dreams. It is your time to become FEARLESS, POWERFUL, AND FREE! Welcome to the NO fluff zone! NO BS HERE, let's get it done! WE, you and I, will have you living your best life NOW!
Drawing on my expertise and personal experiences, I will support, encourage, and educate you about how to become emotionally, mentally, physically, and financially aligned with your vision and goals. We will develop sustainable habits that will ensure you are in control of your life, health, decisions, inner peace and happiness! Plain and simple, GETTING UNSTUCK AND TAKING BACK YOUR LIFE!
I offer a variety of ways you can work with me depending on your comfort level.
One on One Coaching
Group masterminds
Workshops
Event speaking
Podcasts
Virtual trainings
Webinars
The work we do together will be centered around my unique process, The

Return To Self Personal Development Process™. YOU

will learn how to
BREAK THROUGH LIFE'S OBSTACLES, Make Peace With Your Past, and IGNITE THE PASSION IN YOUR SOUL TO LIVE AN EXTRAORDINARY LIFE.
Make choices that align with your dreams and goals.
Heal patterns of self-sabotage, procrastination, and limiting beliefs.
Improve relationships and save your sanity.
Find clarity in areas of your life where you feel stuck and overwhelmed.
Discover who you are and what truly lights your soul on fire.
Build confidence and self trust.
Stay accountable to yourself.
Reconnect with your inner expert and intuition.
Develop and implement self-care routines that uplifts your spirit and fills your soul.
Live in the moment and not stressing over past events or future possibilities.
Step into your authentic self, unapologetically.
Build a loving relationship with yourself and embrace your body right now as you are.
Connect with your inner self-worth and tuning out negative self-talk.
Release fears, judgment, and resentment for past decisions.
Make healthy food choices.
Most importantly, shower yourself with the love you give to others. THE RELATIONSHIP YOU HAVE WITH YOURSELF IS THE MOST IMPORTANT RELATIONSHIP YOU HAVE!!

When was the last time you received the personal attention and support you deserve?
Let's talk about your goals during your complimentary discovery session.
As your coach…
I will support you with creating achievable goals that will put you on a path towards inner peace, health, and happiness. I will help you develop the necessary lifestyle choices that align with your goals, uplift your inner spirit, and create lasting happiness.
We will get in touch with your body and soul's unique and special needs. Remember, there is NO one approach that works for everyone. We will discover why your thought patterns stop you dead in your tracks. I will show you how to embrace uncomfortable situations/conversations to keep you feeling empowered and authentic in your presence. This knowledge will have you thriving in life, not just living day today! 
You will learn how to use and trust your inner expert to make informed decisions that will leave you feeling confident and UNSTUCK. I will guide you through making peace with your past and lifestyle changes to support a healthy mind, reduce stress, and bring lasting clarity. 
You will walk away from our sessions feeling motivated, centered, and inspired. You will have tangible action steps to reconnect with your INNER BADASS.
You will have a better understanding of the lifestyle choices necessary to improve your overall happiness and success.
You will have clearly defined goals and the tools and resources to tackle them. You will also have me by your side supporting, encouraging, and believing in you and cheering you on every step of the way. You will also have email support, messaging, and voice notes between calls.